SKU: UVRS100
Brand: Great Day
UTV Rumble (Rear) Seat- Rear UTV Bed Seat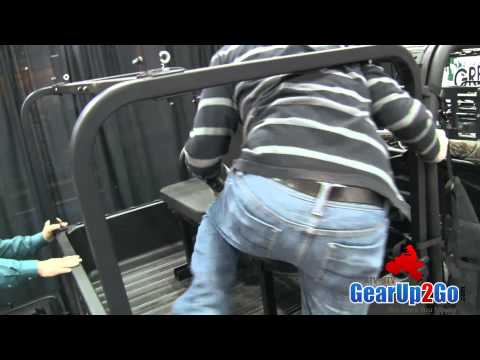 The Great Day UTV Rumble Seat by installs in a matter of minutes, and transforms your UTV into an off-road taxi. Outfit your machine for a hunting "party" or an afternoon picnic while increasing your passenger capacity by two!


UTV Rumble (Rear) Seat- Rear UTV Bed Seat Features
Heavy duty frame is manufactured from 1.0" black powdered-coated aircraft aluminum
Features plush, durable, 600 denier PVC coated polyester vinyl cushions
Includes seat belts to insure safe transport of your passengers
Installs in a matter of minutes
Quick Installation
Available in solid black only
UTV Rumble Seat Dimensions:
Overall Width: 47.0"
Overall Height: 30.0"
Floor to Top of Seat: 17.0"
Seat Depth: 16.0"
Support Legs Height: 13.0"
Support Legs Depth: 11.50"
2017 Fitments
2017 YXZ 1000
2017 Wolverine
2017 Viking
2017 Viking VI
2017 Teryx 4
2017 Ranger XP 1000
2017 Pioneer 1000
2017 Pioneer 1000 - 5
2017 Pioneer 700
2017 Pioneer 700 - 4
2017 Pioneer 500
2017 Mule SX
2017 Mule Pro-FX
2017 Mule Pro-FXT
2017 Mule Pro-DXT Diesel
2017 Mule Pro-DX Diesel
2017 Mule 4010 Trans
2017 Mule 4000/4010
2017 Maverick
2017 Maverick Max
2017 Defender
2017 Commander Max
2017 Commander 800/1000
2016 Fitments
2016 YXZ 1000
2016 Wolverine
2016 Wildcat 1000
2016 Wildcat 700
2016 Wildcat 4 1000
2016 Viking
2016 Viking VI
2016 UXV 500/700
2016 UXV 450
2016 Teryx
2016 Teryx 4
2016 Rustler 120/125
2016 Rustler 120/125 Four
2016 Ranger XP 900
2016 Ranger XP 570 (Fullsize - Profile Bars)
2016 Ranger EV/ION
2016 Ranger ETX
2016 Ranger Diesel
2016 Ranger Crew XP 570 (Fullsize)
2016 Ranger Crew Diesel
2016 Ranger Crew 900
2016 Ranger Crew 570 (Midsize)
2016 Ranger 570 (Midsize)
2016 Ranger 570 (Fullsize - Rounded Bars)
2016 RZR XP Turbo
2016 RZR XP Turbo 4
2016 RZR XP 1000
2016 RZR XP 1000 4
2016 RZR 1000 S
2016 RZR 900
2016 RZR 900 XC
2016 RZR 900 S
2016 RZR 900 4
2016 RZR 570
2016 RZR 170
2016 RTV 500
2016 RTV 400
2016 RTV-X 1140
2016 RTV-X 1120
2016 RTV-X 1100
2016 RTV-X 900
2016 Prowler 1000
2016 Prowler 700
2016 Pioneer 1000
2016 Pioneer 700
2016 Pioneer 700 - 4
2016 Pioneer 500
2016 Mule Pro-FX
2016 Mule Pro-FXT
2016 Mule Pro-DXT Diesel
2016 Mule Pro-DX Diesel
2016 Mule 4010 Trans
2016 Mule 4000/4010
2016 Mule 600/610
2016 Maverick
2016 Maverick Max
2016 General 1000
2016 Gator XUV 560
2016 Gator XUV 560 S4
2016 Gator XUV 550
2016 Gator XUV 550 S4
2016 Defender
2016 Commander Max
2016 Commander 800/1000
2015 Fitments
2015 Wildcat 1000
2015 Wildcat 700
2015 Wildcat 4 1000
2015 Viking VI
2015 Viking 700
2015 UXV 500/700
2015 UXV 450
2015 Teryx
2015 Teryx 4
2015 Rustler 120/125
2015 Rustler 120/125 Four
2015 Ranger XP 900
2015 Ranger EV
2015 Ranger ETX
2015 Ranger Diesel
2015 Ranger Crew Diesel
2015 Ranger Crew 900
2015 Ranger Crew 570 (Midsize)
2015 Ranger Crew 570 (Full Size)
2015 Ranger 800 (Fullsize)
2015 Ranger 570 (Midsize)
2015 Ranger 570 (Full Sized)
2015 RZR 1000
2015 RZR 1000 S
2015 RZR 1000 4
2015 RZR 900
2015 RZR 900 XC
2015 RZR 900 S
2015 RZR 900 4
2015 RZR 570
2015 RZR 170
2015 RTV 1100
2015 RTV 900
2015 RTV 500
2015 RTV 400
2015 RTV-X 1120
2015 RTV-X 1100
2015 RTV-X 900
2015 Prowler 1000
2015 Prowler 500/550/700
2015 Pioneer 700
2015 Pioneer 700 - 4
2015 Pioneer 500
2015 Mule Pro-FXT
2015 Mule 4010 Trans
2015 Mule 4000/4010
2015 Mule 600/610
2015 Maverick
2015 Maverick Max
2015 Gator XUV 855
2015 Gator XUV 855 S4
2015 Gator XUV 825
2015 Gator XUV 550
2015 Commander Max
2015 Commander 800/1000
2014 Fitments
2014 Wildcat 1000
2014 Wildcat 700
2014 Wildcat 4 1000
2014 Viking 700
2014 UXV 500/700
2014 Teryx
2014 Teryx 4
2014 Rustler 120/125 Four
2014 Rustler 115/120/125
2014 Rhino 700
2014 Ranger XP 900
2014 Ranger EV
2014 Ranger Diesel
2014 Ranger Crew Diesel
2014 Ranger Crew 900
2014 Ranger Crew 800
2014 Ranger Crew 570 (Midsize)
2014 Ranger 800 (Fullsize)
2014 Ranger 400/500/570/800 (Midsize)
2014 RZR XP 1000
2014 RZR XP 1000 4
2014 RZR XP 900
2014 RZR 900 4
2014 RZR 800
2014 RZR 800 XC
2014 RZR 800 S
2014 RZR 800 4
2014 RZR 570
2014 RZR 170
2014 RTV 1140
2014 RTV 1100
2014 RTV 900
2014 RTV 500
2014 RTV 400
2014 RTV-X 900
2014 Prowler 1000
2014 Prowler 500/550/700
2014 Pioneer 700
2014 Pioneer 700 - 4
2014 Mule 4010 Trans
2014 Mule 4000/4010
2014 Mule 600/610
2014 Maverick
2014 Maverick Max
2014 Gator XUV 855
2014 Gator XUV 855 S4
2014 Gator XUV 825 S4
2014 Gator XUV 550
2014 Gator XUV 550 S4
2014 Commander Max
2014 Commander 800/1000
2013 Fitments
2013 Wildcat 1000
2013 Wildcat 4 1000
2013 UXV 500
2013 Teryx
2013 Teryx 4
2013 Rustler 120/125 Four
2013 Rustler 115/120/125
2013 Rhino 700
2013 Ranger XP 900
2013 Ranger EV
2013 Ranger Diesel
2013 Ranger Crew Diesel
2013 Ranger Crew 800
2013 Ranger Crew 500
2013 Ranger 800 (Fullsize)
2013 Ranger 400/500/800 (Midsize)
2013 RZR XP 900
2013 RZR XP 900 Jagged X
2013 RZR XP 900 4
2013 RZR 800
2013 RZR 800 S
2013 RZR 800 4
2013 RZR 570
2013 RZR 170
2013 RTV 1140
2013 RTV 1100
2013 RTV 900
2013 RTV 500
2013 RTV 400
2013 Prowler 1000
2013 Prowler 500/550/700
2013 Mule 4010 Trans
2013 Mule 4000/4010
2013 Mule 600/610
2013 Maverick
2013 Gator XUV 855
2013 Gator XUV 855 S4
2013 Gator XUV 825
2013 Gator XUV 825 S4
2013 Gator XUV 550
2013 Gator XUV 550 S4
2013 Commander 800/1000
2013 Big Red MUV 700
2012 Fitments
2012 Wildcat 1000
2012 UXV 500
2012 Teryx
2012 Teryx 4
2012 Rustler 120/125 Four
2012 Rustler 115/120/125
2012 Rhino 700
2012 Ranger EV
2012 Ranger Diesel
2012 Ranger Crew 800
2012 Ranger Crew 500
2012 Ranger 800
2012 Ranger 400/500
2012 RZR XP 900
2012 RZR XP 900 4
2012 RZR 800
2012 RZR 800 S
2012 RZR 800 4
2012 RZR 570
2012 RZR 170
2012 RTV 1140
2012 RTV 1100
2012 RTV 900
2012 RTV 500
2012 RTV 400
2012 Prowler 1000
2012 Prowler 550/700
2012 Mule 4010 Trans
2012 Mule 4000/4010
2012 Mule 600/610
2012 Gator XUV 825
2012 Gator XUV 625
2012 Gator XUV 550
2012 Gator XUV 550 S4
2012 Commander 800/1000
2012 Big Red MUV 700
2011 Fitments
2011 UXV 500
2011 Teryx
2011 Rustler 120/125 Four
2011 Rustler 115/120/125
2011 Rhino 700
2011 Ranger EV
2011 Ranger Diesel
2011 Ranger Crew 800
2011 Ranger Crew 500
2011 Ranger 800
2011 Ranger 400/500
2011 RZR XP 900
2011 RZR 800
2011 RZR 800 S
2011 RZR 800 4
2011 RZR 570
2011 RZR 170
2011 RTV 1140
2011 RTV 1100
2011 RTV 900
2011 RTV 500
2011 Prowler 1000
2011 Prowler 550/700
2011 Mule 4010 Trans
2011 Mule 4000/4010
2011 Mule 600/610
2011 Gator XUV 855
2011 Gator XUV 825
2011 Gator XUV 625
2011 Commander 800/1000
2011 Big Red MUV 700
2010 Fitments
2010 UXV 500
2010 Teryx
2010 Rustler 115/120/125
2010 Rhino 700
2010 Ranger EV
2010 Ranger Crew 800
2010 Ranger 800
2010 Ranger 400/500
2010 RZR 800
2010 RZR 800 S
2010 RZR 800 4
2010 RZR 170
2010 RTV 1140
2010 RTV 1100
2010 RTV 900
2010 RTV 500
2010 Prowler 1000
2010 Prowler 550/700
2010 Mule 4010 Trans
2010 Mule 4000/4010
2010 Mule 600/610
2010 Gator XUV 850D
2010 Gator XUV 825
2010 Gator XUV 620i
2010 Big Red MUV 700
2009 Fitments
2009 UXV 500
2009 Teryx
2009 Rhino 700
2009 Rhino 450
2009 Ranger Crew 700
2009 Ranger 700
2009 Ranger 500
2009 RZR 800
2009 RZR 800 S
2009 RZR 170
2009 RTV 1140
2009 RTV 1100
2009 RTV 900
2009 RTV 500
2009 Prowler 1000
2009 Prowler 550/650/700
2009 Mule 4010 Trans
2009 Mule 4000/4010
2009 Mule 600/610
2009 Gator XUV 850D
2009 Gator XUV 825
2009 Gator XUV 620i
2009 Big Red MUV 700
2008 Fitments
2008 Teryx
2008 Rhino 700
2008 Rhino 450
2008 Ranger 700
2008 Ranger 500
2008 RZR 800
2008 RTV 1100
2008 RTV 900
2008 RTV 500
2008 Prowler 650/700
2008 Mule 3010 Trans
2008 Mule 3000/3010
2008 Mule 600/610
2008 Gator XUV 850D
2008 Gator XUV 825
2008 Gator XUV 620i
2007 Fitments
2007 Rhino 660
2007 Rhino 450
2007 Ranger 700
2007 Ranger 500
2007 RTV 1100
2007 RTV 900
2007 Prowler 650
2007 Mule 3010 Trans
2007 Mule 3000/3010
2007 Mule 600/610
2007 Gator XUV 850D
2007 Gator XUV 825
2007 Gator XUV 620i
2006 Fitments
2006 Rhino 660
2006 Rhino 450
2006 Ranger 700
2006 Ranger 500
2006 Prowler 650
2006 Mule 3010 Trans
2006 Mule 3000/3010
2006 Mule 600/610
Customer Reviews
rumble seat Review by

Tommy

best price I found anywhere! (Posted on 5/20/2013)