SKU: RR605B
Brand: Great Day
Ride-N-Rest ATV Back Rest for Comfort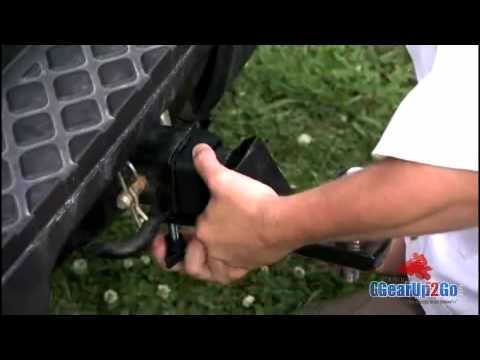 A ride over rough terrain can be tough on a "sensitive" back - the fun and enjoyment of 4-wheeler riding can quickly turn into aches and pains! Long rides with your back unsupported, bent over and absorbing the sway of turns and the shock of bumps can be real trouble for anyone at the end of the day! The Ride n' Rest adds an unbelievable touch of comfort and is a back saver when riding a 4-wheeler over rough terrain or for long periods of time.
Ride-N-Rest ATV Back Rest for Comfort
Framed in aircraft aluminum with 2" thick, cushioned back covered with high density, waterproof,
The feature super soft, cushioned pads covered with 600 Denier PVC coated polyester.
Attaches quickly to All ATV rear cargo racks (factory or after market) with U-bolts (included)
Convenient adjustment feature to set the backrest at the desired position and angle. It folds flat for additional seat cushion and safe transport.
Warning:
This product contains chemicals known to the State of California to cause cancer, birth defects, or other reproductive harm. For more information, go to
www.P65Warnings.ca.gov
.
2017 Fitments
2017 Rubicon 500
2017 Rincon 680
2017 Rancher TRX 420
2017 Outlander 650/850/1000
2017 KingQuad 750
2017 KingQuad 400/500
2017 Grizzly 700
2017 Foreman 500
2017 Brute Force 750
2016 Fitments
2016 Utility ATV 300/500/1000
2016 Rubicon 500
2016 Rincon 680
2016 Rancher TRX 420
2016 Outlander 570/650/850/1000
2016 KingQuad 750
2016 KingQuad 400/500
2016 Grizzly 700
2016 Foreman 500
2016 Brute Force 750
2015 Fitments
2015 Utility ATV 400/450/500/700/1000
2015 Sportsman XP 550/850
2015 Sportsman 570
2015 Rubicon 500
2015 Rincon 680
2015 Rancher TRX 420
2015 Outlander 500/650/800/1000
2015 KingQuad 750
2015 KingQuad 400/500
2015 Grizzly 550/700
2015 Foreman 500
2015 Brute Force 750
2014 Fitments
2014 Utility ATV 400/450/500/550/700/1000
2014 Sportsman XP 550/850
2014 Sportsman X2 550/850
2014 Sportsman X2 500/700/800
2014 Sportsman 570
2014 Sportsman 550 Touring EPS
2014 Sportsman 450/550
2014 Sportsman 400/500/600/700/800
2014 Rubicon 500
2014 Rincon 680
2014 Rancher 420
2014 Outlander 500/650/800/1000
2014 Outlander 400
2014 KingQuad 750
2014 KingQuad 400/500
2014 Grizzly 550/700
2014 Foreman 500
2014 Brute Force 750
2014 Brute Force 650
2013 Fitments
2013 Prairie 360
2013 Outlander 500/650/800/1000
2013 Outlander 400
2013 KingQuad 750
2013 KingQuad 400/500
2013 Grizzly 550/700
2013 Grizzly 450
2013 FourTrax Rincon Base
2013 Foreman 500
2013 Brute Force 750
2013 Brute Force 650