SKU: FRB48
Brand: Kolpin Powersports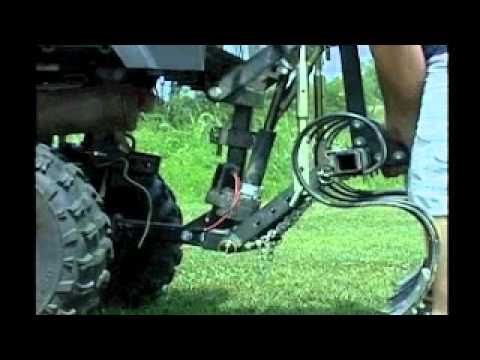 Rear Blade for Kolpin DirtWorks System by Kolpin
The Rear Blade by Kolpin DirtWorks is perfect for spreading gravel or leveling out ground.Simply attach it to the 3-Point Hitch and Accessory Toolbar (both sold separately) with an easy one-pin mounting. Accomplish material moving and grading tasks without ever breaking a sweat!The applied down pressure provides customizable cutting and leveling capabilities.The incorporated flange plates allow our popular Box Scraper attachment(sold separately)to be bolted on to quickly convert the blade to a box scraper.
Rear Blade Quick Features:
Blade is 48.0" wide
Easy one pin mounting
Five position angling provides more customized results
13.0" blade height with a replaceable and reversible wear bar for longer life
Does not include the 3-Point Hitch System
Warning:
This product contains chemicals known to the State of California to cause cancer, birth defects, or other reproductive harm. For more information, go to
www.P65Warnings.ca.gov
.
2017 Fitments
2017 YXZ 1000
2017 Wolverine
2017 Viking
2017 Viking VI
2017 Teryx 4
2017 Rubicon 500
2017 Rincon 680
2017 Recon 250
2017 Rancher TRX 420
2017 Pioneer 1000
2017 Pioneer 1000 - 5
2017 Pioneer 700
2017 Pioneer 700 - 4
2017 Pioneer 500
2017 Outlander Max 650/850/1000
2017 Outlander Max 450/570
2017 Outlander 650/850/1000
2017 Mule SX
2017 Mule Pro-FX
2017 Mule Pro-FXT
2017 Mule Pro-DXT Diesel
2017 Mule Pro-DX Diesel
2017 Mule 4010 Trans
2017 Mule 4000/4010
2017 Maverick
2017 Maverick Max
2017 Kodiak 700
2017 Grizzly 700
2017 General 1000
2017 Foreman 500
2017 Defender
2017 Commander Max
2017 Commander 800/1000
2016 Fitments
2016 Mule 4010 Trans
2016 Mule 4000/4010
2016 Mule 600/610
2016 Maverick
2016 Maverick Max
2016 Kodiak 700
2016 KingQuad 750
2016 KingQuad 400/500
2016 Grizzly 700
2016 General 1000
2016 Gator XUV 560
2016 Gator XUV 560 S4
2016 Gator XUV 550
2016 Gator XUV 550 S4
2016 Foreman 500
2016 Defender
2016 Commander Max
2016 Commander 800/1000