SKU: 10286
Brand: Extreme Metal Products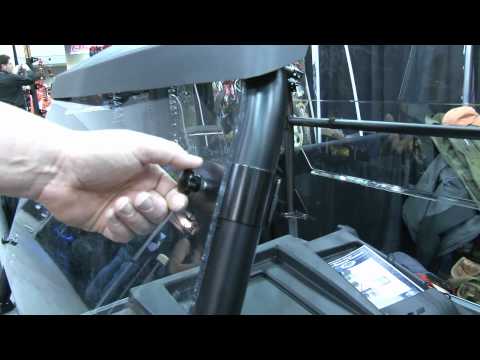 Polaris Ranger Full Size (2009-2014) Metal Roof with LED Map Light by EMP
The Polaris Ranger Metal Roof by Extreme Metal Products is laser cut and CNC formed for a perfect fit. The sides are double folded to add strength, style, and a soft edge. Stay protected in your Ranger while out on the trail and keep the hot sun and weather off your shoulders so you can you have a more enjoyable ride! EMP is always making the highest quality products for your Polaris Ranger
All four sides are hemmed back twice forming a 1/8" steel angle on all four sides making the top very tough and rattle free. Attaches with (6) of our Quick Connect clamps. Once, you install the clamps you can easily remove the top in a few minutes by removing (6) screws while the clamps remain on the ROPS. The LED Map light will run for over 100 hours on the batteries that are supplied.
Ranger Hard Top with LED Map Light
Manufactured from 16-gauge steel
Powder coated for superior protection
No drilling and easy install- Bolt on
Laser cut and CNC formed to ensure a perfect fit ensuring a rigid structure with no rattling
The edges are folded over twice creating a 1/8" thick angle around the outside edges
Includes a waterproof LED dome light that runs 100 hours on "AAA" batteries (included)
Made in U.S.A.
NOTE: in 2016 they went back to a 1-3/4" round tube cage model. The only 2016 this will fit is the 2016 570 Full-Size with the round tube cage. This will not fit the models with the PRO-FIT cages.
Warning:
This product contains chemicals known to the State of California to cause cancer, birth defects, or other reproductive harm. For more information, go to
www.P65Warnings.ca.gov
.
2016 Fitments
2016 Ranger 570 (Fullsize - Rounded Bars)
2014 Fitments
2014 Ranger Diesel
2014 Ranger 800 (Fullsize)
2013 Fitments
2013 Ranger Diesel
2013 Ranger 800 (Fullsize)
2012 Fitments
2012 Ranger Diesel
2012 Ranger 800
2011 Fitments
2011 Ranger Diesel
2011 Ranger 800
2009 Fitments
2009 Ranger 700
2009 Ranger 500