SKU: 98510
Brand: Kolpin Powersports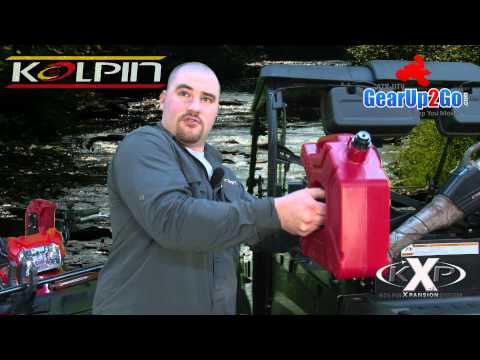 KXP Plunger for UTVs by Kolpin
The Kolpin X-Pansion system (KXP) for UTVs uses Kolpin's unique expansion plunger.It was specially designed for mounting to existing O.E.M. UTV mounting points.Simply attach and tighten with NO tools and ride!The Kolpin KXP system provides secure accessory positioning with quick and easy changeover.
Now you can attach Kolpin's popular Gun Boot cases,including the newest Kolpin Gun Boot 6.0 case or Tactical Gun Boot case all with a twist of the wrist.Quickly mount their handy Fuel Pack Jr.for extra fuel on a trail ride..or use their versatile Rhino Grip holders to carry utility tools.Whatever you require,they have you covered!Purchase extra KXP plungers to attach Kolpin molded boxes or even your own accessories.The possibilities are endless!
KXP Plunger for UTVs Features:
Compatible with Polaris composite UTVs using the Polaris Lock & Ride System
Ergonomically designed handle with brass insert
Expanding plunger provides a solid attachment for accessories
Easy installation-no tools required
Quick on/off..change accessories by rotating the power twist handle
Warning:
This product contains chemicals known to the State of California to cause cancer, birth defects, or other reproductive harm. For more information, go to
www.P65Warnings.ca.gov
.
2013 Fitments
2013 Ranger EV
2013 Ranger Diesel
2013 Ranger Crew Diesel
2013 Ranger Crew 800
2013 Ranger Crew 500
2013 Ranger 800 (Fullsize)
2012 Fitments
2012 Ranger EV
2012 Ranger Diesel
2012 Ranger Crew 800
2012 Ranger Crew 500
2012 Ranger 800
2011 Fitments
2011 Ranger EV
2011 Ranger Diesel
2011 Ranger Crew 800
2011 Ranger Crew 500
2011 Ranger 800
2010 Fitments
2010 Ranger EV
2010 Ranger Crew 800
2010 Ranger 800
2009 Fitments
2009 Ranger Crew 700
2009 Ranger 700
2009 Ranger 500
2008 Fitments
2008 Ranger 700
2008 Ranger 500
2007 Fitments
2007 Ranger 700
2007 Ranger 500
2006 Fitments
2006 Ranger 700
2006 Ranger 500
1. Slide the expansion system together in the order shown through the accessory mounting plate and secure with the KXP Handle-do not tighten at this time.
* NOTE: the rubber expander for both systems has a counter-bored relief that mates to the threaded rod. Please be sure to install correctly!
2. Place the accessory on the rack or bed rail in the desired location and twist the KXP handle clockwise, until tight, to engage the plunger and secure the accessory. Do Not Over Tighten-secure fastening is possible without over stressing components!