SKU: 97205
Brand: Kolpin Powersports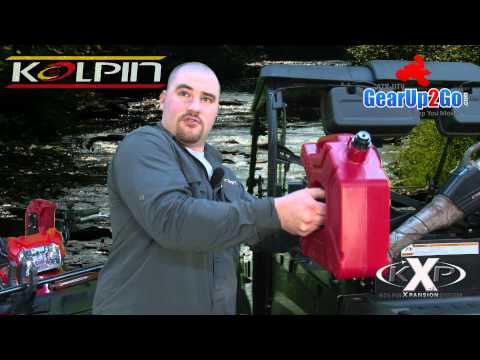 KXP ATV Mirror by Kolpin
The Kolpin X-Pansion system (KXP) for ATVs uses Kolpin's unique expansion plunger.It was specially designed for mounting accessories to existing O.E.M. rack mounts.Simply attach and tighten with NO tools and ride!The Kolpin KXP system provides secure accessory positioning with quick and easy changeover.
KXP ATV Mirror Features:
Fully adjustable 4.0" ATV mirror allows you to safely view what is behind you
Easy to use Kwik clip allows for "no tools" positioning and removal
Specific for use with Polaris composite ATV racks using the Polaris Lock and Ride System
Custom design base plate incorporates KXP mounting system and easily attaches to your Polaris ATV rack with no drilling
Warning:
This product contains chemicals known to the State of California to cause cancer, birth defects, or other reproductive harm. For more information, go to
www.P65Warnings.ca.gov
.
2013 Fitments
2013 Sportsman XP 550/850
2013 Sportsman X2 550/850
2013 Sportsman X2 500/700/800
2013 Sportsman 450/550
2013 Sportsman 400/500/600/700/800
2012 Fitments
2012 Sportsman XP 550/850
2012 Sportsman X2 550/850
2012 Sportsman X2 500/700/800
2012 Sportsman 450/550
2012 Sportsman 400/500/600/700/800
2011 Fitments
2011 Sportsman XP 550/850
2011 Sportsman X2 550/850
2011 Sportsman X2 500/700/800
2011 Sportsman 400/500/600/700/800
2010 Fitments
2010 Sportsman XP 550/850
2010 Sportsman X2 550/850
2010 Sportsman X2 500/700/800
2010 Sportsman Big Boss 800 6x6 EFI
2010 Sportsman 850 Touring EPS
2010 Sportsman 800 EFI Touring
2010 Sportsman 550 Touring EPS
2010 Sportsman 500 H.O. Touring
2010 Sportsman 500 EFI Touring
2010 Sportsman 400/500/600/700/800
2010 Sportsman 300
2010 Sportsman 90
2009 Fitments
2009 Sportsman XP 550/850
2009 Sportsman X2 500/700/800
2009 Sportsman Big Boss 800 6x6 EFI
2009 Sportsman 800 EFI Touring
2009 Sportsman 500 EFI Touring
2009 Sportsman 400/500/600/700/800
2009 Sportsman 300
2009 Sportsman 90
2008 Fitments
2008 Sportsman X2 500/700/800
2008 Sportsman 800 EFI Touring
2008 Sportsman 500 EFI Touring
2008 Sportsman 400/500/600/700/800
2008 Sportsman 300
2008 Sportsman 90
2007 Fitments
2007 Sportsman X2 500/700/800
2007 Sportsman 450/550
2007 Sportsman 450 4x4
2007 Sportsman 400/500/600/700/800
2007 Sportsman 90
2006 Fitments
2006 Sportsman X2 500/700/800
2006 Sportsman 450/550
2006 Sportsman 400/500/600/700/800
2006 Sportsman 90