SKU: WHS03HD
Brand: Kolpin Powersports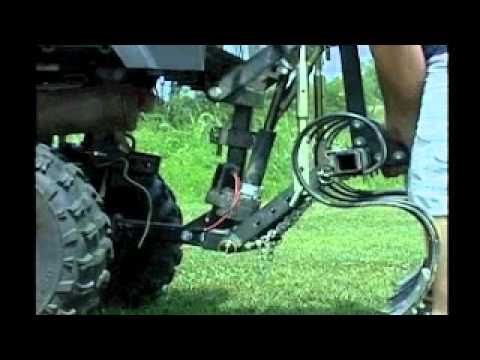 Heavy Duty 3-Point Hitch System by Kolpin
The Heavy Duty 3-Point Hitch System for DirtWorks is an easy and convenient way to mount various implements to your ATV or UTV using a 2.0" receiver hitch. Whether you are looking to use a cultivator,chisel plow,rear blade,landscape rake or disc plow..this is perfect solution for agriculture or maintenance.
Heavy Duty 3-Point Hitch System Features:
Perfect for use on ATVs or UTVs using any 2.0" automotive style receiver hitch
Category "0" 3 point hitch with a 20" drawbar width and 5/8" diameter pins
Manufactured with a heavy-duty 1.50" square tubing mainframe
250 lb. lift capacity at the tool bar with 300 lbs.down pressure capacity
15" vertical lift at the toolbar
Fully adjustable lift arms and top link
Easily change over from work to play in just minutes with quick,easy installation and adjustments without the need for tools
Convenient rocker switch can be mounted to your handle bars
12v electric actuator lift system with 20 amp maximum current draw
Additional frame support kit may be required,please check out our suspension locks and frame support kits
Note:Recommended for use with ATV Suspension Lock on ATVs 350 cc or larger
Warning:
This product contains chemicals known to the State of California to cause cancer, birth defects, or other reproductive harm. For more information, go to
www.P65Warnings.ca.gov
.
2017 Fitments
2017 YXZ 1000
2017 Wolverine
2017 Viking
2017 Viking VI
2017 Teryx 4
2017 Rubicon 500
2017 Rincon 680
2017 Recon 250
2017 Rancher TRX 420
2017 Pioneer 1000
2017 Pioneer 1000 - 5
2017 Pioneer 700
2017 Pioneer 700 - 4
2017 Pioneer 500
2017 Outlander Max 650/850/1000
2017 Outlander Max 450/570
2017 Outlander 650/850/1000
2017 Mule SX
2017 Mule Pro-FX
2017 Mule Pro-FXT
2017 Mule Pro-DXT Diesel
2017 Mule Pro-DX Diesel
2017 Mule 4010 Trans
2017 Mule 4000/4010
2017 Maverick
2017 Maverick Max
2017 Kodiak 700
2017 Grizzly 700
2017 General 1000
2017 Foreman 500
2017 Defender
2017 Commander Max
2017 Commander 800/1000
2016 Fitments
2016 Mule Pro-DX Diesel
2016 Mule 4010 Trans
2016 Mule 4000/4010
2016 Mule 600/610
2016 Maverick
2016 Maverick Max
2016 Kodiak 700
2016 KingQuad 750
2016 KingQuad 400/500
2016 Grizzly 700
2016 General 1000
2016 Gator XUV 560
2016 Gator XUV 560 S4
2016 Gator XUV 550
2016 Gator XUV 550 S4
2016 Foreman 500
2016 Defender
2016 Commander Max
2016 Commander 800/1000