SKU: CT036
Brand: Kolpin Powersports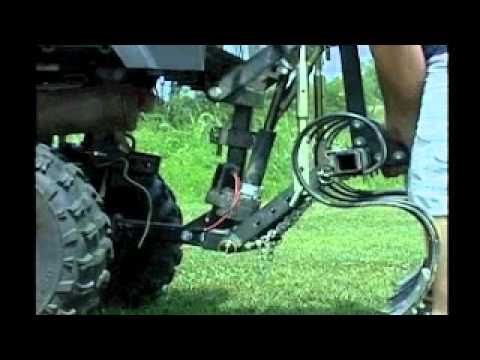 Cultivator Set for Kolpin DirtWorks System by Kolpin
The Cultivator Set by Kolpin DirtWorks is perfect for the initial preparation of hard-packed soil.The tines break up compacted ground,providing deeper penetration..which in turn provides more aeration when preparing your seed bed. The agricultural-grade Danish "S" tines feature reversible sweeps.
Cultivator Set for Kolpin DirtWorks System Features:
Includes six Danish "S" tines with 1.375" reversible sweeps
Breaks up compacted ground, providing deeper penetration
Provides more aeration when preparing your seed bed
Does not include the 3-Point Hitch System
We recommend the use of a separate tool bar for mounting convenience if you are utilizing other DirtWorks implements
Warning:
This product contains chemicals known to the State of California to cause cancer, birth defects, or other reproductive harm. For more information, go to
www.P65Warnings.ca.gov
.
2017 Fitments
2017 YXZ 1000
2017 Wolverine
2017 Viking
2017 Viking VI
2017 Teryx 4
2017 Rubicon 500
2017 Rincon 680
2017 Recon 250
2017 Rancher TRX 420
2017 Pioneer 1000
2017 Pioneer 1000 - 5
2017 Pioneer 700
2017 Pioneer 700 - 4
2017 Pioneer 500
2017 Outlander Max 650/850/1000
2017 Outlander Max 450/570
2017 Outlander 650/850/1000
2017 Mule SX
2017 Mule Pro-FX
2017 Mule Pro-FXT
2017 Mule Pro-DXT Diesel
2017 Mule Pro-DX Diesel
2017 Mule 4010 Trans
2017 Mule 4000/4010
2017 Maverick
2017 Maverick Max
2017 Kodiak 700
2017 Grizzly 700
2017 General 1000
2017 Foreman 500
2017 Defender
2017 Commander Max
2017 Commander 800/1000
2016 Fitments
2016 Mule 4010 Trans
2016 Mule 4000/4010
2016 Mule 600/610
2016 Maverick
2016 Maverick Max
2016 Kodiak 700
2016 KingQuad 750
2016 KingQuad 400/500
2016 Grizzly 700
2016 General 1000
2016 Gator XUV 560
2016 Gator XUV 560 S4
2016 Gator XUV 550
2016 Gator XUV 550 S4
2016 Foreman 500
2016 Defender
2016 Commander Max
2016 Commander 800/1000