SKU: 91855
Brand: Kolpin Powersports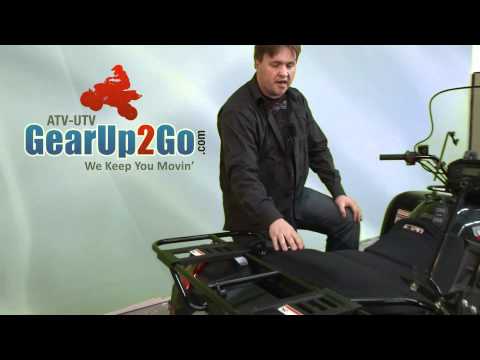 Black Gel-Tech Seat Cover by Kolpin
Get more enjoyment out of riding with the most comfortable seat cover ever!Features Gel-Tech foam padding and and ergonomic design for maximum comfort.The Gel-Tech material also acts as a temperature control,ensuring a moderate seat temperature in both warm and cool environments.For optimal performance and rider safety,a layer of Ultra-Grip material prevents slippage in wet or damp conditions.
Black Gel-Tech Seat Cover Features:
Stretchable fit covers most ATVs
Durable nylon web straps make it easy to install
Offers a secure fit,while quick-release buckles provide easy removal
Warning:
This product contains chemicals known to the State of California to cause cancer, birth defects, or other reproductive harm. For more information, go to
www.P65Warnings.ca.gov
.
2017 Fitments
2017 Rubicon 500
2017 Rincon 680
2017 Recon 250
2017 Rancher TRX 420
2017 Outlander Max 650/850/1000
2017 Outlander Max 450/570
2017 Outlander 650/850/1000
2017 Kodiak 700
2017 KingQuad 750
2017 KingQuad 400/500
2017 Grizzly 700
2017 Foreman 500
2017 Brute Force 750
2016 Fitments
2016 Utility ATV 300/500/1000
2016 Sportsman ACE
2016 Sportsman ACE 900 SP
2016 Sportsman ACE 570
2016 Rubicon 500
2016 Rincon 680
2016 Recon 250
2016 Rancher TRX 420
2016 Outlander Max L 450/570
2016 Outlander Max 570/650/850/1000
2016 Outlander 570/650/850/1000
2016 Kodiak 700
2016 KingQuad 750
2016 KingQuad 400/500
2016 Grizzly 700
2016 Foreman 500
2016 Brute Force 750
2015 Fitments
2015 Utility ATV 400/450/500/700/1000
2015 Sportsman XP 550/850
2015 Sportsman ACE
2015 Sportsman 570
2015 Rubicon 500
2015 Rincon 680
2015 Recon 250
2015 Rancher TRX 420
2015 Outlander Max L 450/500
2015 Outlander Max 500/650/800/1000
2015 Outlander 500/650/800/1000
2015 KingQuad 750
2015 KingQuad 400/500
2015 Grizzly 550/700
2015 Foreman 500
2015 Brute Force 750
2014 Fitments
2014 Utility ATV 400/450/500/550/700/1000
2014 Sportsman XP 550/850
2014 Sportsman X2 550/850
2014 Sportsman X2 500/700/800
2014 Sportsman ACE
2014 Sportsman 570
2014 Sportsman 550 Touring EPS
2014 Sportsman 450/550
2014 Sportsman 400/500/600/700/800
2014 Rubicon 500
2014 Rincon 680
2014 Recon 250
2014 Rancher 420
2014 Outlander Max 500/650/800/1000
2014 Outlander Max 400
2014 Outlander 500/650/800/1000
2014 Outlander 400
2014 KingQuad 750
2014 KingQuad 400/500
2014 Grizzly 550/700
2014 Foreman 500
2014 Brute Force 750
2014 Brute Force 650
2013 Fitments
2013 Utility ATV 400/450/500/550/700/1000
2013 Sportsman XP 550/850
2013 Sportsman X2 550/850
2013 Sportsman X2 500/700/800
2013 Sportsman Touring 500 H.O
2013 Sportsman Big Boss 800 6X6
2013 Sportsman 450/550
2013 Sportsman 400/500/600/700/800
2013 Rubicon 500
2013 Rincon 680
2013 Recon 250
2013 Rancher 420
2013 Prairie 360
2013 Outlander Max 500/650/800/1000
2013 Outlander Max 400
2013 Outlander 500/650/800/1000
2013 Outlander 400
2013 KingQuad 750
2013 KingQuad 400/500
2013 Grizzly 550/700
2013 Grizzly 450
2013 FourTrax Rincon Base
2013 Foreman 500
2013 Brute Force 750
2013 Brute Force 650
2012 Fitments
2012 Utility ATV 425/450/550/700/1000
2012 Sportsman XP 550/850
2012 Sportsman X2 550/850
2012 Sportsman X2 500/700/800
2012 Sportsman Touring 500 H.O.
2012 Sportsman Big Boss 800 6x6
2012 Sportsman 850 Touring EPS
2012 Sportsman 500 Touring EPS
2012 Sportsman 450/550
2012 Sportsman 400/500/600/700/800
2012 Rubicon 500
2012 Rincon 680
2012 Recon 250
2012 Rancher 420
2012 Prairie 360
2012 Outlander Max 400/500/650/800
2012 Outlander 800/1000
2012 Outlander 400/500/650
2012 KingQuad 750
2012 KingQuad 400/450/500
2012 Grizzly 550/700
2012 Grizzly 300/350/450
2012 FourTrax Rincon Base
2012 Foreman 500
2012 Brute Force 750
2012 Brute Force 650
2012 Brute Force 300
2012 Big Bear 400
2011 Fitments
2011 Utility ATV 425/450/550/650/700/1000
2011 Sportsman XP 550/850
2011 Sportsman X2 550/850
2011 Sportsman X2 500/700/800
2011 Sportsman Big Boss 800 6x6 EFI
2011 Sportsman 850 X2
2011 Sportsman 850 Touring EPS
2011 Sportsman 550 X2
2011 Sportsman 550 Touring EPS
2011 Sportsman 500 Touring H.O.
2011 Sportsman 400/500/600/700/800
2011 Rubicon 500
2011 Rincon 680
2011 Recon 250
2011 Rancher 420
2011 Prairie 360
2011 Outlander Max 400/500/650/800
2011 Outlander 800
2011 Outlander 400/500/650
2011 KingQuad 750
2011 KingQuad 400/500
2011 Grizzly 550/700
2011 Grizzly 350/450
2011 FourTrax Rincon Base
2011 Foreman 500
2011 Brute Force 750
2011 Brute Force 650
2011 Big Bear 400
2010 Fitments
2010 Utility ATV 450/550/650/700
2010 Sportsman XP 550/850
2010 Sportsman X2 550/850
2010 Sportsman X2 500/700/800
2010 Sportsman Big Boss 800 6x6 EFI
2010 Sportsman 850 Touring EPS
2010 Sportsman 800 EFI Touring
2010 Sportsman 550 Touring EPS
2010 Sportsman 500 H.O. Touring
2010 Sportsman 500 EFI Touring
2010 Sportsman 400/500/600/700/800
2010 Sportsman 300
2010 Sportsman 90
2010 Rubicon 500
2010 Rincon 680
2010 Recon 250
2010 Rancher 420
2010 Prairie 360
2010 Outlander Max 400/500/650/800
2010 Outlander 800
2010 Outlander 400/500/650
2010 KingQuad 750
2010 KingQuad 400/450/500
2010 Grizzly 550/700
2010 Grizzly 350/450
2010 Foreman 500
2010 Brute Force 750
2010 Brute Force 650
2010 Big Bear 400
2009 Fitments
2009 Utility ATV 250/300/500/550/700
2009 Sportsman XP 550/850
2009 Sportsman X2 500/700/800
2009 Sportsman Big Boss 800 6x6 EFI
2009 Sportsman 800 EFI Touring
2009 Sportsman 500 EFI Touring
2009 Sportsman 400/500/600/700/800
2009 Sportsman 300
2009 Sportsman 90
2009 Rubicon 500
2009 Rubicon 500
2009 Rincon 680
2009 Recon 250
2009 Rancher 420
2009 Prairie 360
2009 Outlander Max 400/500/650/800
2009 Outlander 800
2009 Outlander 400/500/650
2009 KingQuad 750
2009 KingQuad 400/450/500
2009 Grizzly 550/700
2009 Grizzly 350/450
2009 Foreman 500
2009 Brute Force 750
2009 Brute Force 650
2009 Big Bear 400
2009 Big Bear 250
2008 Fitments
2008 Utility ATV 250/400/500/650/700
2008 Sportsman X2 500/700/800
2008 Sportsman 800 EFI Touring
2008 Sportsman 500 EFI Touring
2008 Sportsman 400/500/600/700/800
2008 Sportsman 300
2008 Sportsman 90
2008 Rincon 680
2008 Prairie 360
2008 Outlander Max 400/500/650/800
2008 Outlander 800
2008 Outlander 400/500/650
2008 KingQuad 400/450/750
2008 Grizzly 660/700
2008 Grizzly 350/400/450
2008 Brute Force 750
2008 Brute Force 650
2008 Big Bear 400
2008 Big Bear 250
2007 Fitments
2007 Utility ATV 250/400/500/650/700
2007 Sportsman X2 500/700/800
2007 Sportsman 450/550
2007 Sportsman 450 4x4
2007 Sportsman 400/500/600/700/800
2007 Sportsman 90
2007 Prairie 360
2007 Outlander Max 400/650/800
2007 Outlander 400/500/650
2007 Outlander 400/500/600
2007 KingQuad 450/700
2007 Grizzly 660/700
2007 Grizzly 550/700
2007 Grizzly 450
2007 Grizzly 400
2007 Grizzly 350/400/450
2007 Foreman 500
2007 Brute Force 750
2007 Brute Force 650
2007 Big Bear 400
2007 Big Bear 250
2006 Fitments
2006 Utility ATV 250/400/500/650
2006 Sportsman X2 500/700/800
2006 Sportsman 450/550
2006 Sportsman 400/500/600/700/800
2006 Sportsman 90
2006 Rancher 350
2006 Prairie 700
2006 Prairie 360
2006 Kodiak 450
2006 KingQuad 700
2006 Brute Force 750
2006 Brute Force 650