SKU: 556CB
Brand: Great Day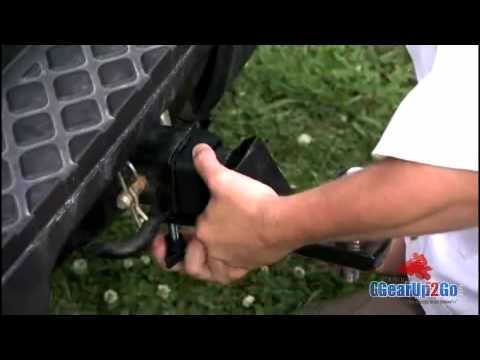 ATV Power-Pak Crossbow Rack
There are a lot of great things about owning and using a crossbow. Until now, transporting one on an ATV was not one of them. Great Day has met the challenge though with the Power-Pak Crossbow Holder---the easiest and safest way possible to haul a crossbow,
The Power-Pak uses the patented "Tension-Lok" holding system that grasps the stock of the crossbow so securely that no other component is touched—protecting all the sensitive mechanical settings.
The Power-Pak attaches to the ATV front at a clever angle reducing the risk of contact with vines and branches. The base of the Power-Pak Crossbow Holder is constructed of aircraft aluminum and installs in just minutes with regular tools.
Warning:
This product contains chemicals known to the State of California to cause cancer, birth defects, or other reproductive harm. For more information, go to
www.P65Warnings.ca.gov
.
2017 Fitments
2017 Rubicon 500
2017 Rincon 680
2017 Rancher TRX 420
2017 Kodiak 700
2017 KingQuad 750
2017 KingQuad 400/500
2017 Grizzly 700
2017 Foreman 500
2017 Brute Force 750
2016 Fitments
2016 Utility ATV 300/500/1000
2016 Rubicon 500
2016 Rincon 680
2016 Rancher TRX 420
2016 Kodiak 700
2016 KingQuad 750
2016 KingQuad 400/500
2016 Grizzly 700
2016 Foreman 500
2016 Brute Force 750
2015 Fitments
2015 Utility ATV 400/450/500/700/1000
2015 Rubicon 500
2015 Rincon 680
2015 Rancher TRX 420
2015 KingQuad 750
2015 KingQuad 400/500
2015 Grizzly 550/700
2015 Foreman 500
2015 Brute Force 750
2014 Fitments
2014 Utility ATV 400/450/500/550/700/1000
2014 Rubicon 500
2014 Rincon 680
2014 Rancher 420
2014 KingQuad 750
2014 KingQuad 400/500
2014 Grizzly 550/700
2014 Foreman 500
2014 Brute Force 750
2014 Brute Force 650
2013 Fitments
2013 Utility ATV 400/450/500/550/700/1000
2013 Rubicon 500
2013 Rincon 680
2013 Rancher 420
2013 Prairie 360
2013 KingQuad 750
2013 KingQuad 400/500
2013 Grizzly 550/700
2013 Grizzly 450
2013 FourTrax Rincon Base
2013 Foreman 500
2013 Brute Force 750
2013 Brute Force 650
2012 Fitments
2012 Brute Force 750
2012 Brute Force 650
2012 Brute Force 300
2012 Big Bear 400