Polaris Ranger 800 PathPro RCS Cab Enclosure by Curtis Industries (2010, 2011, 2012, 2013 Rangers)
SKU:
1POLRC1
Brand:
Curtis Industries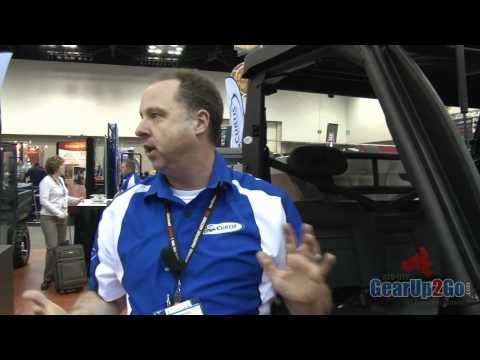 The Polaris Ranger PathPro RCS Cab Enclosure gives you flexibility as the seasons change. The modular cab system allows fast conversion from a fully enclosed cab to an open ride cab, in just seconds. Once installed, the entire cab and its parts can be removed or reattached in about 1 minute!
Polaris Ranger PathPro RCS Cab Enclosure Quick Facts
Fits 2010, 2011, 2012, 2013, 2014 Polaris Ranger 800 and 800 XP
Polycarbonate windows are lightweight and durable
Windshield has an additional Quantum Coating for added durability and allows use of optional windshield wiper
Windshield adjusts to vented position or opens full with dual gas-shocks allowing you to adjust your airflow and ride closed or wide open
Roof & doors are thermoformed of TPO material (not ABS or fiberglass!) used in such products are automobile bumpers for strength and durability
Door & rear panel sliders are made of impact modified acrylic and allow airflow and access from the cab
Roof & doors made of high quality TPO (similar to what the factory hood/bed are made of) and will not change shape or warp due to heat or cold
Total cab weight is only 192 lbs. and can be quickly removed if needed
Uses a quick-release mounting system allowing the user to add/remove cab components as the weather changes
Laminated Safety Glass for clean, clear vision is an option
GearUp2Go's Take on the PathPro RCS Cab Enclosure
This is a top-of-the-line cab enclosure, Curtis's best. You can take all the parts off the cab in 1 minute or less including doors, windshields and the back. The windshield can be opened for ventilation. The Polycarbonate windows are made from the finest, most durable materials available and are lightweight. Add an optional wiper kit to keep your windshield clean in rain or snow.
*NOTE: This product is oversized and ships freight truck, $149.99 will be added at the time of checkout. This must ship to a commercial address or an additional $129 will be applied.
More Items to Consider
2010 Polaris Ranger 800
2010 Polaris Ranger 800 6x6
2011 Polaris Ranger 800
2011 Polaris Ranger 800 6x6
2011 Polaris Ranger Diesel
2012 Polaris Ranger 800
2012 Polaris Ranger 800 6x6
2012 Polaris Ranger Diesel
2013 Polaris Ranger 800
2013 Polaris Ranger 800 6x6
2013 Polaris Ranger Diesel
2014 Polaris Ranger 800
2014 Polaris Ranger 800 6x6
2014 Polaris Ranger Diesel
2016 Polaris Ranger 570 (Round Bars)
*We are in the process of updating our fitment charts!
Please Live Chat, Email, or call 800-920-7574 for additional fitments.
You may also be interested in the following product(s)
Price: $129.99

Sale: $114.00

Your Savings: $15.99 (12%)

Price: $24.99

Sale: $16.66

Your Savings: $8.33 (33%)

Price: $349.95

Sale: $319.95

Your Savings: $30.00 (9%)
This cab kit is great - so versatile and quality is amazing! by George Loomis

This cab kit is great - so versatile and quality is amazing! (Posted on 11/12/10)
Curtis Industries
Founded in 1968 by Fred Curtis, Sr., Curtis Industries, LLC has remained a leader in the design, manufacture and distribution of quality cab systems and accessories for over 40 years. Decades of experience and innovation has made us the leader in the industry for aftermarket vehicle enclosures in the country. These enclosures offer excellent fit-and-finish, superb styling and overall reliable functionality which are second to none. Curtis is also a significant OEM supplier of quality vehicle enclosures to top manufacturers.
All Curtis products are manufactured under the same motto that has withstood the test of time for over 40 years - "Excel with products that work well, look great and stand alone in quality for the dollar."