Bobcat / Club Car / Husqvarna Full-Tilting Windshield by Kolpin 2800
SKU:
2800
Brand:
Kolpin Powersports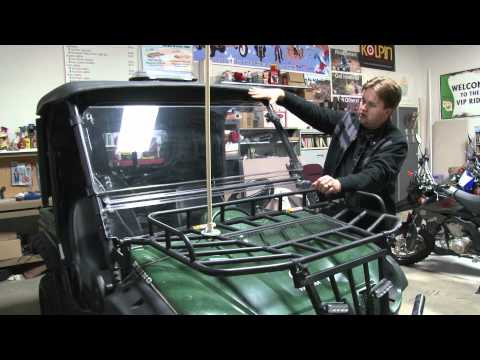 The Bobcat/Club Car/Husqvarna Full-Tilting Windshield by Kolpin protects you and your passengers from the elements. This versatile windshield incorporates a three-position tilt mechanism allowing you to adjust it from fully closed, to half extended, to fully extended. You also have the ability to quickly remove the top panel, creating a convenient half windshield. This is the toughest windshield available made from the best materials on the market!


Features a three-position til mechanism to control airflow
Constructed of ultra-thick, high-quality, scratch-resistant 1/4" MR10 GE Lexan polycarbonate
Super-smooth edges and custom bend design provides maximum rigidity
Custom injection-molded nylon mounting brackets
All stainless steel, black-coated finish hardware
Fits entirely between the roll bars
Easy to install and no drilling required
*Note: This product is oversized and $12.99 will be charged at the time of checkout.


Fits the Following Makes:


Models:

Years:

Bobcat



2200 / S

2007-10

2200 (Diesel / S)

2007-10

Club Car


XRT1550 / LE / SE

2007-10

XRT1550 (Diesel) / LE / SE / Intellitach

2007-10

Carryall 295 / SE

2007-10

Carryall 295 (Diesel) / SE / Intellitach

2007-10

Husqvarna

HUV4421G (XP) / GLX

2006-10

HUV4421D (XP) / DLX

2006-10

Note: Open positions are designed for low-speed airflow ONLY. High-speed riding or trailering require the windshield to be in the FULL CLOSED position.
*We are in the process of updating our fitment charts!
Please Live Chat, Email, or call 800-920-7574 for additional fitments.
Kolpin is the leader in all-terrain innovation, offering only the highest quality ATV Accessories and UTV Accessories on the market today. Kolpin ATV products and UTV products are designed for recreational ATV and UTV riders, hunters & outdoorsmen, and landowners. Kolpin has the largest selection of ATV and UTV accessories for Polaris, Yamaha, Honda, Can-Am, Kawasaki, Suzuki, John Deere and most other ATV models and UTV models. Whether you are looking for ATV storage, fuel packs, LED lights, Gun Boots, gear grips, UTV roofs, UTV windshields, rider accessories, or implements fro your ATV or UTV – Kolpin has you covered. Gearup2go.com
offers the full line of Kolpin ATV accessories and UTV accessories to help you get the most out of your off-road vehicle. Watch This Video